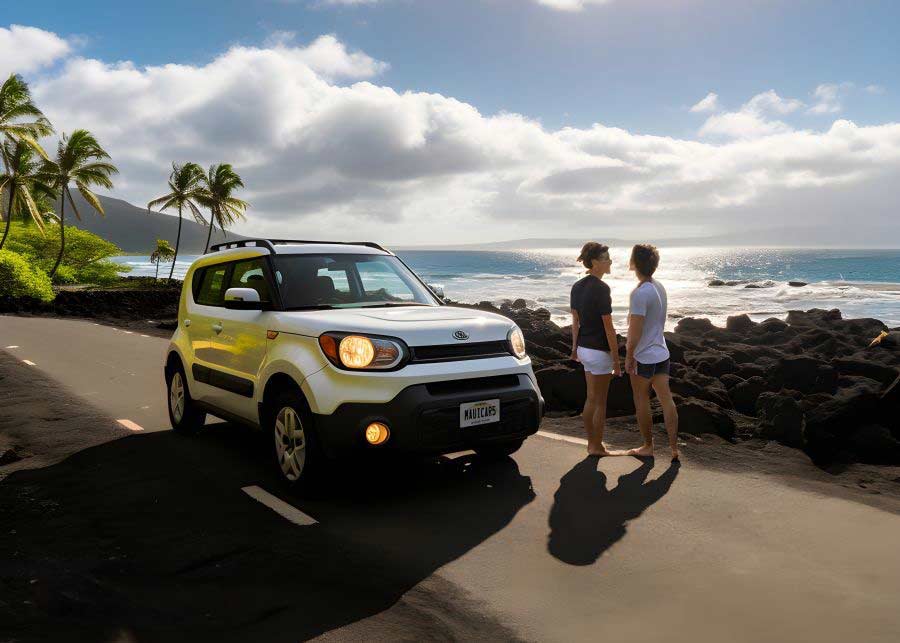 Explore Multiple Car Rental Options and Discounts Before finalizing your booking, compare rates and availability from various sources. Consider both airport and city locations for pickup and drop-off. Online travel agencies and other sites can give you a sense of the market rates. Remember to check the rates directly from the car rental companies. At MauiCarRental.com, we serve quotes from seven or more major, national car rental companies, offering low corporate rates unavailable to individual renters.
Safeguard Yourself Against Damage and Dirt Charges To protect yourself, consider taking photos of the car before you start your journey. Having a timestamp or a person in the picture can provide additional proof of the car's condition at pickup time. Repeat this process when returning the car, especially if you're returning it outside of office hours. Hawaii car rental agencies may charge a hefty fee for excessive dirt. If this happens, visit a car wash before returning the car. Consider using newspapers or other protective materials on the floor if you plan to go hiking or if it's muddy.
Timing is Crucial Book your car rental well in advance during peak travel seasons, similar to how you would book airline tickets and accommodations. After making a reservation, check back frequently to see if better deals become available before your trip. Prices can fluctuate, and this strategy could save you a significant amount of money. Prepaid deals can sometimes offer the best value, but not always. Set a reminder to recheck car rental prices a day or two before you travel for any last-minute offers.
Understand Your Insurance Requirements Before Arriving at the Car Rental Counter Before your trip, check with your insurance provider and credit card company to understand what coverage is already provided. Don't automatically pay an extra $10-$30/day at the rental counter without understanding what you're getting. Agents may be incentivized to sell insurance and other upgrades. At MauiCarRental.com, we recommend checking with your personal auto insurance and credit cards for rental car coverage and supplementing what they don't provide from a third party.
Additional Driver and Underage Fees Can Add Up Fees vary significantly by company and rental location. If more than one driver will be on the rental agreement, inquire when making the reservation. Some rentals include a second driver, while others automatically include a spouse or business partner. Be sure to clarify this in advance to avoid unexpected charges. At MauiCarRental.com, we offer discounted rates for young drivers and often waive the additional driver fee with our partners, Avis and Budget.
Consider Car Sizes, Upgrades, and Pre-Payment Options Car rental prices are based on demand, not size. Research different size rental cars to see what offers the best deal. Larger cars are often cheaper than smaller cars. In Hawaii, smaller, fuel-efficient cars that are easy to maneuver are often preferred. Consider whether you need extras like GPS when you already have it on your phone. Pre-payment options can lock you in but may not guarantee the best rate.
Understand the Contract's Grace Period. Previously, rental companies offered a 59-minute grace period. However, some companies now have no grace period, charging up to $20/hour plus taxes for late returns. Be sure to understand the terms of your rental agreement to avoid unexpected charges.
Ensure the Price is the Total Price Hawaii airport surcharges on car rentals have increased. Most car rental quotes initially don't show taxes and other fees, which can add up to about 40% of the total cost. Make sure to click through to the final price to understand the total cost of your rental. At MauiCarRental.com, your confirmation email will provide you with all charges, including government-imposed taxes and fees, you can expect to pay for your rental car.
Following these strategies, you can secure a budget-friendly car rental for your Maui adventure with MauiCarRental.com. Remember, planning and understanding the terms of your rental agreement can save you from unexpected charges and ensure a smooth and enjoyable trip.