The most popular driving destination in Maui is Hana. There are many questions we're regularly asked about the Road to Hana that we'll answer below.
Which Maui rental car companies will allow you to drive the Road to Hana?
Most all rental car companies on Maui will allow you to drive to Hana. Driving the backside of Haleakala, past Oheo Gulch is not recommended for the faint of heart.
Access to the ROAD TO HANA is Limited (learn more): The best parts of driving to Hana are between Paia and Seven Sacred Pools.
Check the rates for Road to Hana car rentals on Maui.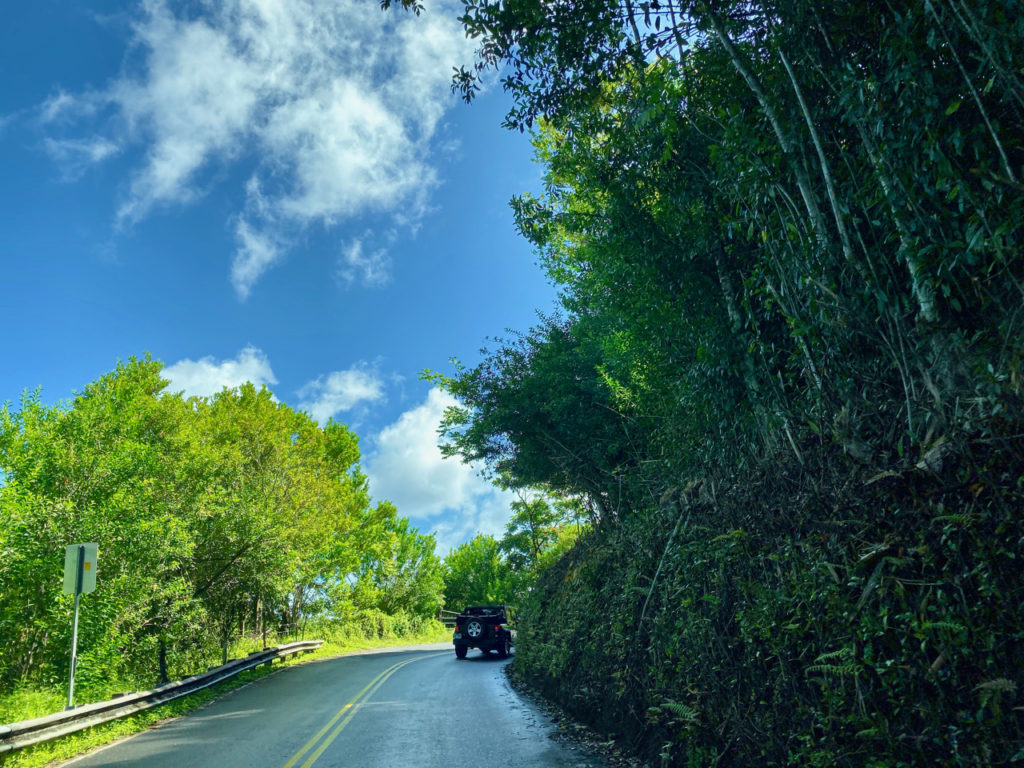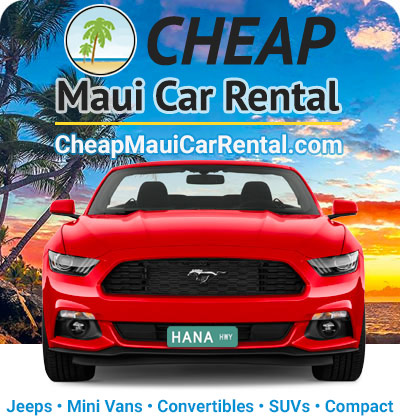 Is a 4 Wheel Drive necessary to drive the Road to Hana?
4WD is not necessary for making the drive to Hana. If you plan on going off of the Highway, you may need one due to muddy unpaved roads, but you're not likely to do this. Should I rent a convertible on Maui?
I see people wearing I survived the Road to Hana T-shirts. Is the Hana Highway that dangerous?
Though the winding, cliffy road to Hana is more dangerous than most, the reasons for its infamy come from its history. A couple of decades ago, the Highway was poorly paved and unsafe. It had potholes, weak old bridges, and missing guardrails.
With the inception of heightened tourism, the Road to Hana on Maui is well-paved and safer than ever. Dangers still exist though. The road is wet in many areas along the drive because of constant rainfall. This, combined with high cliffs, low-visibility hairpin turns, narrow roads, speeding locals, and gawking tourists, can make this road treacherous. Make sure that the driver is watching the road. Switching drivers is the best way to ensure a safe and pleasurable drive.
Should we drive ourselves or take a Road to Hana tour?
If you are unaware, the Road to Hana has become more congested as its popularity grows. Knowing this will help you make your decision regarding your mode of transport. Some visitors like the freedom of driving themselves, deciding when, where and how long they want to linger, while others may opt to leave the driving to a professional. Taking a Road to Hana tour can also be interesting as you'll likely learn quite a bit more about the area.
Is it worth it to buy a Hana CD Guide?
It depends on which one you get. The R2H "Experiencing The Road to Hana and Beyond" is worth buying because it offers much more than an audio guide through Hana. With this CD, descriptive folding map, and driving tips, you get the whole experience. If you want a journey you'll never forget, memories filled with romance and adventure, it's worth getting this CD."
Do I need to leave at 8 am, like all the guidebooks suggest, in order to get the most out of the Road to Hana?
With hundreds of cars driving on this road every day, it's difficult to say. On the one hand, it's a shame to leave with the pack. On the other, the road is long and takes time to drive. Coming back in the dark is pointless. If it's dark when you go back, you'll miss the reason for driving it. It's best to leave early, even if it means driving with everyone else. Make sure to stop and enjoy the view when you get backed up. Pull over and take advantage of your senses.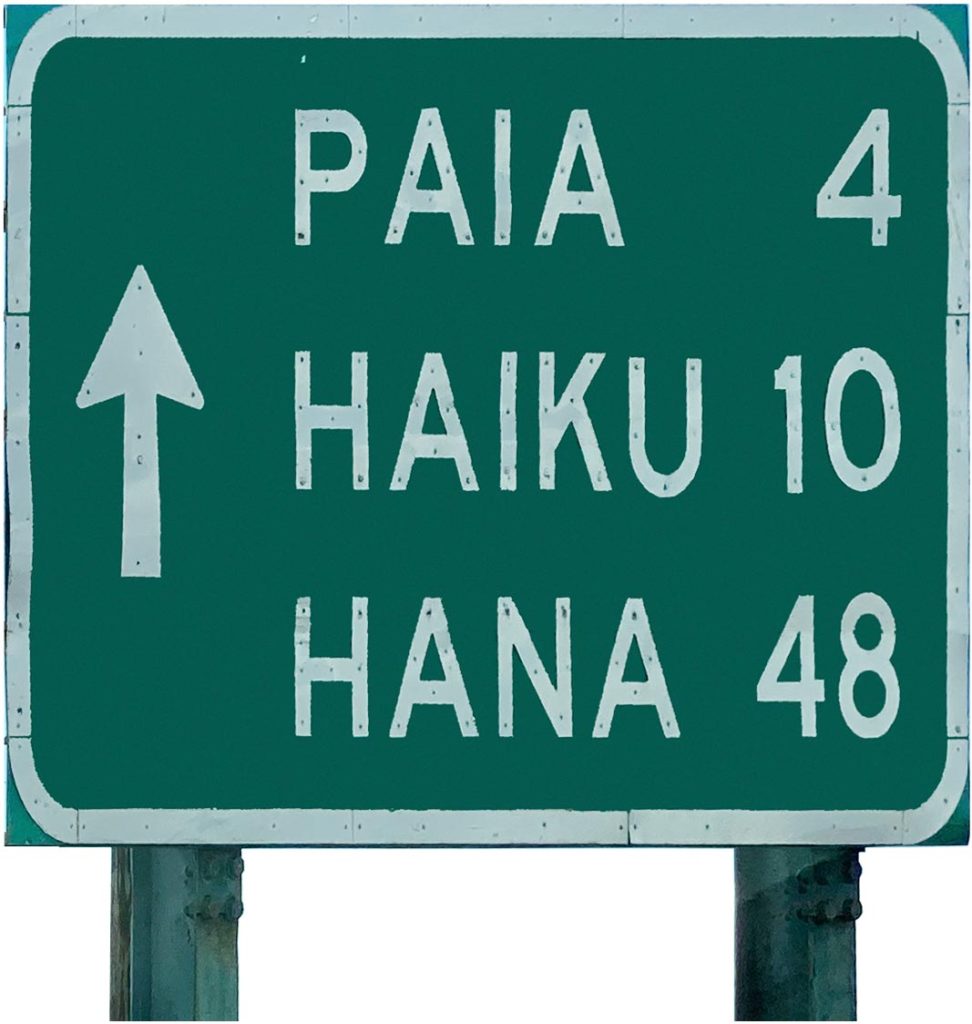 You can also stay overnight in Hana, which is highly suggested. Travaasa is one of the best resorts Maui has to offer and it's right in Hana Town on the water.
If you don't want to drive the whole day, consider driving to Twin Falls, the closest and most easily accessed falls. There are some great hikes here, and the smoothies and fresh fruit at the stand make it worth stopping at. Wailele Farm owns the property here and leaves it open to the public. You can't lose; there are many other scenic drives in Maui too.
Do I have to drive? Can I fly instead?
Yes, you can fly instead. Up until recently, flying to Hana from Kahului was rare and expensive. Mokulele Airlines offers 2 daily round-trip flights to Hana at a great price. This is good news for those who get car sick or don't have time to drive.
Can I Cycle the Road to Hana?
If you're an avid cyclist and looking for a more active way to explore the Road to Hana, you might be wondering if cycling is a viable option. The answer largely depends on your fitness level, cycling skills, and comfort with long-distance rides on hilly terrain. The road is indeed scenic and filled with natural beauty, but it's also filled with twists, turns, and steep inclines, making it quite a challenging route for cyclists. It's also important to note that cycling on the Road to Hana could pose safety issues due to the narrow roads and heavy traffic. If you decide to cycle, be sure to take all necessary precautions, be alert, and respect the rules of the road.
What Food and Supplies Should I Bring for the Road to Hana?
When embarking on the Road to Hana journey, it's essential to pack some food, snacks, and water, especially if you plan to make the full day of it. There are a few small food stands and stores along the way, but options can be limited. Consider packing a picnic lunch with sandwiches or wraps, fresh fruits, nuts, and plenty of water. Don't forget to bring a trash bag to keep your litter until you find a proper disposal spot. For supplies, ensure you have a good map, possibly a guide book, a full tank of gas, and a charged phone for emergencies. Don't forget your camera to capture the incredible sights along the way!
What Are Some Must-See Stops on the Road to Hana?
The Road to Hana is teeming with sights and attractions that you shouldn't miss. First, the Twin Falls – an easily accessible waterfall spot perfect for a quick dip or photo op. Then there's the Garden of Eden Arboretum, a beautiful garden with an array of tropical plants and stunning views. Don't miss the Black Sand Beach at Wai'anapanapa State Park, a unique sight and great place for a rest stop. The Hana Lava Tube offers a fascinating look at Maui's volcanic history. Finally, the Seven Sacred Pools at Oheo Gulch are absolutely stunning – though swimming is occasionally restricted, the sight itself is worth the visit. Remember, the journey is as rewarding as the destination, so take your time, stop often, and enjoy the beauty that the Road to Hana has to offer.

Are there gas stations along the Road to Hana?
Yes, there are a few gas stations along the Road to Hana, but they are quite spread out. It's recommended to fill up your tank before starting the journey.
What kind of wildlife can you see on the Road to Hana?
Along the Road to Hana, you can spot various wildlife, including native birds like the 'I'iwi and Nene, and possibly mongoose. In the ocean, you might see dolphins and sea turtles.
Are there any secret spots or less-known attractions on the Road to Hana?
Yes, there are several less-known attractions on the Road to Hana. These include the Kalepa Bridge, Wailua Valley State Wayside, and the Hana Lava Tube.
What is the history and significance of the Road to Hana?
The Road to Hana is a historic highway built in the 1870s to connect remote communities. It's significant for its stunning views and numerous waterfalls and symbolizes Maui's natural beauty.
Are there any local food or fruit stands along the Road to Hana?
Yes, there are several local food and fruit stands along the Road to Hana. They offer a variety of local products like fresh fruits, baked goods, and homemade jams.