Maui Airport Commuter Terminal
1 Kahului Airport Rd.
Kahului, Hawaii 96732
Hours: 5:30 AM to 11:00 PM (or when the last flight deplanes)

Your Trusted Car Rental Partner
The Kahului Airport in Maui (OGG) is your gateway to Maui's beautiful valley island, the 2nd largest of the Hawaiian Islands and a top destination for visitors. Located 1 mile east of Kahului, the Kahului Airport is the second busiest in Hawaii. Although initially intended for inter-island travel, in recent years, the deluge of tourists to this island has resulted in a need to modernize and create state-of-the-art facilities for the tens of thousands of tourists that arrive on Maui every day.
At MauiCarRental.com, we simplify your car rental experience at Kahului Airport. We've partnered with top-notch companies like Dollar, Avis, Budget, Enterprise, and Hertz, providing a wide range of vehicles to suit your needs. From economy cars and Jeeps to luxury SUVs and vans, we've got you covered.
If you are planning to rent a car during your trip to Maui, it is recommended you compare our rates and benefits to find the best deal. You can easily do this by using an online travel booking website or by contacting the rental companies directly.
Easy Car Rental at Kahului Maui Airport
Upon arrival at Maui, head to the Kahului car rental center. If you didn't reserve ahead, don't worry, you can use your mobile phone to book. Our cars are just a short tram ride from the baggage claim area.
Maui is a popular destination, attracting thousands of visitors daily. As such, the demand for rental cars is high, especially during peak travel seasons. By reserving your car rental early, you can:
Ensure Availability: The most popular vehicle types can get booked out quickly. By reserving early, you ensure that you get the vehicle that best suits your needs and preferences.
Secure Better Rates: Prices for car rentals can fluctuate based on demand. When you book early, you're more likely to secure a more favorable rate before demand increases.
Avoid Last-Minute Stress: Traveling can come with its share of stresses. By booking your car rental early, you eliminate one potential source of stress. You'll have the peace of mind knowing that your transportation needs are taken care of.
Enjoy More Choices: Early booking gives you a wider selection of vehicles to choose from. As the travel date nears, the choices may become more limited.
Exceptional Value and Service
We're committed to offering these rentals at discounted rates, with added benefits like free additional drivers. We aim to provide you with the best value and service, making your trip to Maui as enjoyable as possible.
Convenient Locations
We have multiple car rental locations across Maui, ensuring you can pick up or drop off your vehicle at a convenient location.
Getting to Your Rental Car
Navigating Maui Airport is a breeze. Simply follow the signs to the baggage claim area. Visitors will love the new tram. There are NO steps with ramps. You can easily wheel a sleeping toddler in a stroller and 2 large pieces of luggage. The tram will transport you directly to the rental car facility in about 4 minutes. Your bags can be wheeled effortlessly from baggage claim to the curb to the tram to your rental car.
Flexible Booking is Best

Unlike big-box travel agencies, we don't require payment for booking. You can cancel your reservations anytime without an additional fee. At MauiCarRental.com, we prioritize your convenience and peace of mind.
Contact us if you have any questions about the main Airport on Maui.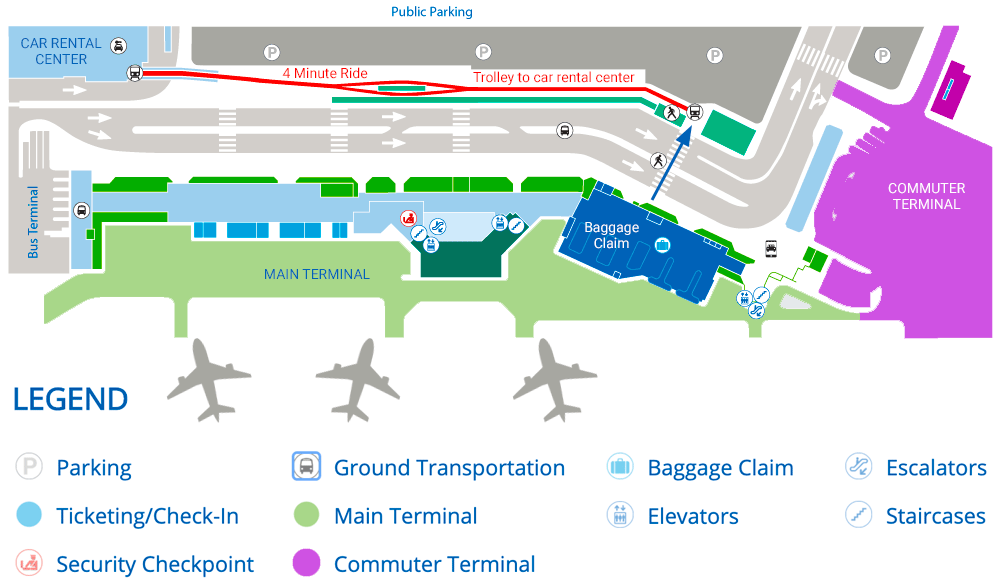 Key Information and Services at Kahului Airport (OGG), Maui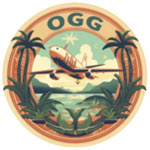 Airport Code: OGG
Location: 1 Kahului Airport Rd, Kahului, HI 96732, United States
Contact Information:

Main Office: (808) 872-3830
Noise Concerns: (808) 872-3893
Lost & Found: (808) 872-3878

Terminals: Kahului Airport has two passenger terminals. The Overseas Terminal is used for transpacific flights, while Commuter Terminal is used for interisland flights.
Runways: The airport has two runways. The primary runway (2-20) is 6,995 feet long and the secondary runway (5-23) is 4,990 feet long.
Services: The airport offers a range of services, including dining options, shopping outlets, car rental services, and more.
ConRAC Car Rental Facility: The Consolidated Rent-A-Car (ConRAC) facility at Kahului Airport makes renting a car upon arrival convenient. The facility is accessible via a short tram ride from the baggage claim area.
Parking: The airport provides public parking. It is located across from the terminal building.
Transportation: Apart from car rentals, other ground transportation options include taxis, ride shares, and public transit.
Airlines: Several airlines operate at the airport, including Hawaiian Airlines, Southwest Airlines, Delta Airlines, American Airlines, and more.
Operating Hours: The airport operates 24 hours a day, 7 days a week. However, the hours for the individual airlines and shops may vary. All car rental companies at the airport are open until travelers from the last flight pick-up their vehicles.
Most In-demand Rental Car Classes at Kahului Airport (OGG)
Should I rent a vehicle in advance or at the Maui Airport?
If needed, book online a few hours before car pick-up to compare options and choose the best deal, avoiding limited choices at the rental agency upon arrival at (OGG.)
Where do I get my rental car at the airport on Maui?
Car rental companies, excluding Ace, are situated at the new CONRAC facility within airport grounds. Take a tram to collect your rental car. For Ace, note that they operate a separate shuttle service. The address is: 101 Airport Access Rd, Kahului, HI 96732.
Is OGG the same as Kahului Airport?
Kahului Airport is the primary airport on the island of Maui. The IATA Airport Code for Kahului Airport on Maui is represented by the abbreviation (OGG).
Is the Maui (OGG) airport big?
Maui OGG Airport, considered a small airport, covers 1,391 acres of land. It features two terminals: a commercial terminal and a passenger terminal. Despite its size, it efficiently handles inter-island and overseas flights.
Are there any additional fees or hidden charges associated with car rentals at Maui Airport?
Maui Car Rental provides transparent pricing, and there are no hidden charges. However, additional fees may apply for reduced young driver surcharges (for drivers aged 21-24), additional drivers (often free), and optional equipment like GPS or child car seats.
Are there any restrictions on taking rental cars to certain destinations or attractions in Maui?
Our suppliers allow their rental vehicles to be driven all over the island, including popular destinations and attractions. However, off-road driving is generally prohibited, and it's essential to comply with local laws and regulations.
Can I return my car if the rental company is closed?
Returning your rental car to the on-site company's location if it's closed is a simple process. They will provide instructions on where to park the vehicle. Simply deposit the keys in the designated drop box, and you're finished.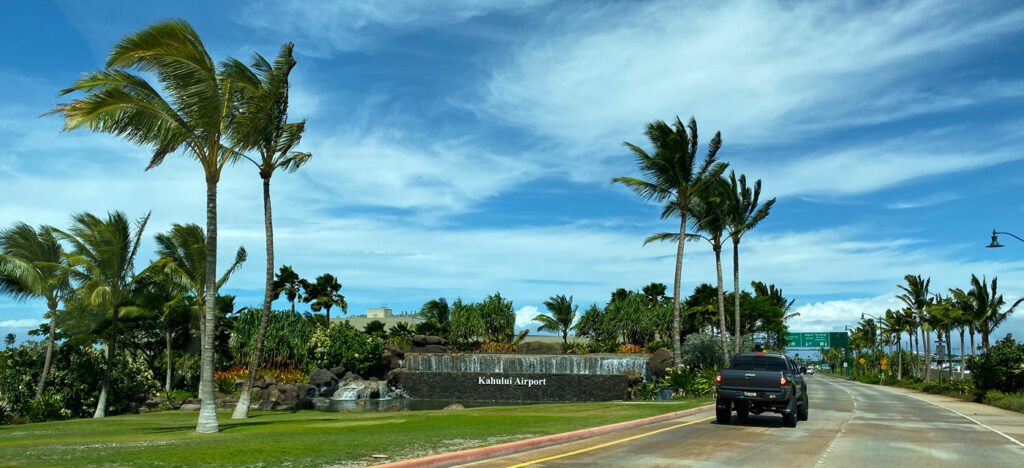 Maui Airport Car Rental Companies
Alamo Rent-A-Car
Airport (808) 872-1470
Toll-Free (800) 327-9633
Avis Rent-A-Car
Airport (808) 871-7576
Toll-Free (800) 321-3712
Budget Rent-A-Car
Airport (808) 871-8811, ext 242
Toll-Free (800) 527-7000
Dollar Rent-A-Car *
Airport (808) 877-2732
Toll-Free (800) 800-4000
Enterprise Rent-A-Car *
Airport (808) 871-1511
Toll-Free (800) 736-8222
Hertz Rent-A-Car
Airport (808) 893-5200
Toll-Free (800) 654-3131
National Rent-A-Car
Airport (808) 871-8852
Toll-Free (888) 826-6890
Sixt Rent A Car LLC
Telephone (888) 749-8227
Thrifty Rent-A-Car *
Airport (808) 877-2732
Toll-Free (800) 847-4389
NOTE: All partners with an asterisk (*) after the company name have ADA-accessible vehicles available. Please call at least 48 hours before your car rental pick-up to make arrangements.

Renting a Car in Kahului
We hope this information is helpful! If you're planning to explore the island of Maui, renting a car in Kahului is a fantastic way to do it.
As we mentioned above, the early bird gets the worm! Booking your rental car in Kahului at least a day before your trip often lowers prices. Intermediate cars are usually about 10% cheaper than other types on average, making them a great option. So buckle up, start your engines, and prepare for the Hawaiian adventure of a lifetime! Happy travels!