Maui Airport Commuter Terminal
1 Kahului Airport Rd.
Kahului, Hawaii 96732
Hours: 5:30 AM to 11:00 PM (or when the last flight deplanes)

The Kahului Airport in Maui (OGG) is your gateway to Maui's beautiful valley island, the 2nd largest of the Hawaiian Islands and a top destination for visitors. Located 1 mile east of Kahului, the Kahului Airport is the second busiest in Hawaii. Although initially intended for inter-island travel, in recent years, the deluge of tourists to this island has resulted in a need to modernize and create state-of-the-art facilities for the tens of thousands of tourists that arrive on Maui every day.

Simple & Quick – Book a Car in Under 2 Minutes
Automatic Transmissions & A/C – No Booking Fees
Unlimited miles – Simple to view or cancel reservations
Lock-in special rates here – Major National brands
There are several car rental companies that offer rental cars at the Kahului Airport in Maui. Some of the most well-known and reputable companies include Dollar, Avis, Budget, Enterprise, Hertz, and Hertz. These companies, which we partner with, offer a wide range of rental vehicles to suit different needs and budgets, including economy cars, luxury cars, SUVs, and vans. Our service provides rentals from these companies at a discounted rate and with additional benefits, such as free extra drivers.
If you are planning to rent a car during your trip to Maui, it is recommended you compare our rates and benefits to find the best deal. You can easily do this by using an online travel booking website or by contacting the rental companies directly.
View all Maui car rental locations.
Rent a Vehicle at the Kahului Maui Airport:

Upon arriving on the stunning island of Maui, you will undoubtedly be looking for where to retrieve your discount car rental. If you did not reserve ahead of time, vehicle rental services are available in the Kahului car rental center after taking the short ride on the tram outside the Baggage Claim area. Rental companies like Maui Car Rental offer exceptional discount vehicle rental services with major national brand rental partners.
Getting to your rental car at the Maui Airport
When arriving at Maui Airport, getting to the rental car facilities is a breeze. For airline passengers, simply follow the signs to the baggage claim area. Once there, board the convenient tram located across from baggage claim, which will transport you directly to the rental car facility. Once off the tram, head over to the Avis counter to pick up your rental car. The entire process takes approximately 4 minutes. For walk-up renters, you can easily locate the rental car return area by following the clear airport signs.
Unlike Internet-based big-box travel agencies, we do not require payment at the time of booking. Change reservations at any time without a fee.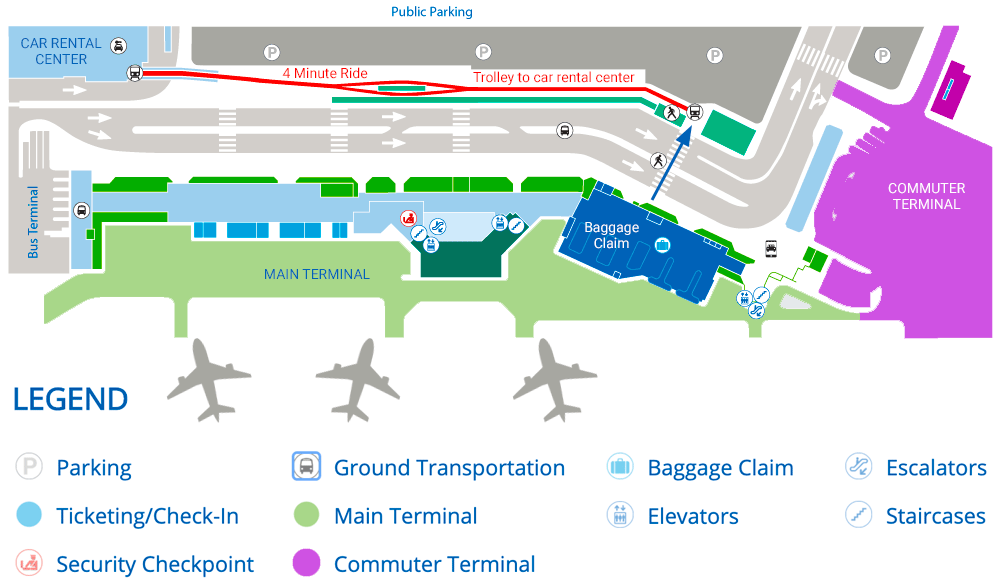 ---
Rates are based on availability at the time of booking and you can cancel anytime without a penalty.
Most In-demand Rental Car Classes at Kahului Airport (OGG)
Should I rent a vehicle in advance or at the Maui Airport?
If needed, book online a few hours before car pick-up to compare options and choose the best deal, avoiding limited choices at the rental agency upon arrival at (OGG.)
Where do I get my rental car at the airport on Maui?
Car rental companies, excluding Ace, are situated at the new CONRAC facility within airport grounds. Take a tram to collect your rental car. For Ace, note that they operate a separate shuttle service. The address is: 101 Airport Access Rd, Kahului, HI 96732.
Is OGG the same as Kahului Airport?
Kahului Airport is the primary airport on the island of Maui. The IATA Airport Code for Kahului Airport on Maui is represented by the abbreviation (OGG).
Is the Maui (OGG) airport big?
Maui OGG Airport, considered a small airport, covers 1,391 acres of land. It features two terminals: a commercial terminal and a passenger terminal. Despite its size, it efficiently handles inter-island and overseas flights.
Can I return my car if the rental company is closed?
Returning your rental car to the on-site company's location if it's closed is a simple process. They will provide instructions on where to park the vehicle. Simply deposit the keys in the designated dropbox, and you're finished.
Are there any additional fees or hidden charges associated with car rentals at Maui Airport?
Maui Car Rental provides transparent pricing, and there are no hidden charges. However, additional fees may apply for reduced young driver surcharges (for drivers aged 21-24), additional drivers (often free), and optional equipment like GPS or child car seats.
Are there any restrictions on taking rental cars to certain destinations or attractions in Maui?
Our suppliers allow their rental vehicles to be driven all over the island, including popular destinations and attractions. However, off-road driving is generally prohibited, and it's essential to comply with local laws and regulations.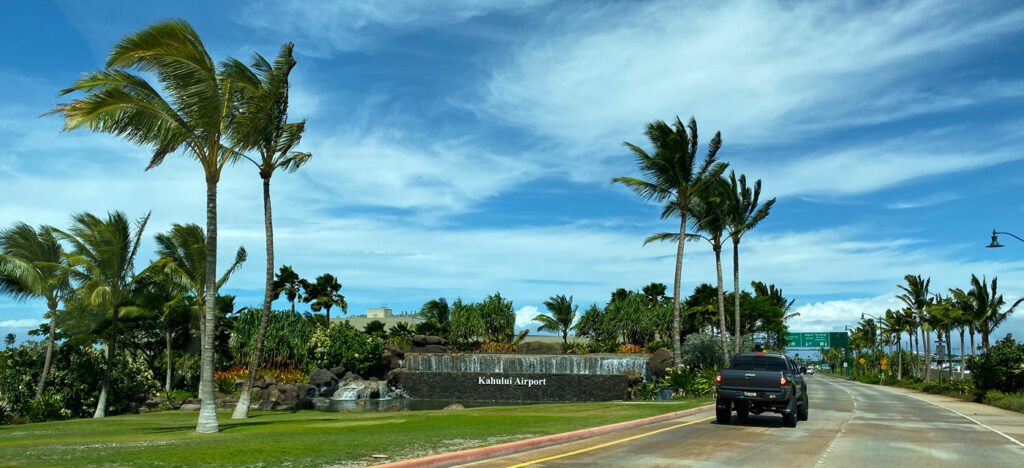 Maui Airport Car Rental Companies
Alamo Rent-A-Car
Airport (808) 872-1470
Toll-Free (800) 327-9633
Avis Rent-A-Car
Airport (808) 871-7576
Toll-Free (800) 321-3712
Budget Rent-A-Car
Airport (808) 871-8811, ext 242
Toll-Free (800) 527-7000
Dollar Rent-A-Car *
Airport (808) 877-2732
Toll-Free (800) 800-4000
Enterprise Rent-A-Car *
Airport (808) 871-1511
Toll-Free (800) 736-8222
Hertz Rent-A-Car
Airport (808) 893-5200
Toll-Free (800) 654-3131
National Rent-A-Car
Airport (808) 871-8852
Toll-Free (888) 826-6890
Sixt Rent A Car LLC
Telephone (888) 749-8227
Thrifty Rent-A-Car *
Airport (808) 877-2732
Toll-Free (800) 847-4389
NOTE: All partners with an asterisk (*) after the company name have ADA-accessible vehicles available. Please call at least 48 hours before your car rental pick-up to make arrangements.
Top Tips for Renting a Car in Kahului: Your Guide to Maui Driving
Aloha, travelers! If you're planning to explore the island of Maui, renting a car in Kahului is a fantastic way to do it. We've put together a few essential tips to make the most of your journey. Let's hit the road!
1. Safety First – Understand Local Laws
In Hawaii, safety is a priority. As per Hawaiian law, seat belts are mandatory for all vehicle occupants, whether you're in the front or back seat. Children under four must ride in a child safety seat, and kids aged four to eight must be in a suitable safety or booster seat. Be sure to follow these rules to avoid fines or mandatory safety classes.
2. Navigate like a Pro
Maui's most magical spots lie off the beaten track, and signage can be limited. Consider adding a GPS to your car rental for stress-free navigation, although mobile phones work on much of the island. As they say, the journey is as important as the destination, and with a GPS or app, you can enjoy the views without worrying about directions!
3. Parking Smarts
Parking in busy areas of Maui can be tricky, especially later in the day. Paid parking is more prevalent, but you can still find free spots with some careful planning. Always pay attention to signs indicating restricted parking to avoid unnecessary tickets.
4. Fuel up for Adventure
Most rental cars come with a full tank of gas, and you might not think about the fuel gauge while exploring the beaches and mountains. However, remember that gas stations can be sparse in remote areas. So, if you're heading away from the towns, fill up your tank beforehand.
5. Embrace the Journey
The beauty of renting a car in Maui is the freedom it offers. The comfort of your rental car will let you explore everything from the Twin Falls Maui Waterfall to the West Maui Forest Reserve and beyond.
6. Choose Your Rental Agency Wisely
Kahului Airport is just under 4 miles from the city center and features a consolidated rental car center (CONRAC) with various companies, including Avis, Budget, Enterprise, Hertz, Thrifty and others.
7. Embrace Island Time
Driving speeds in Maui tend to be slower, so sit back, relax, and savor the journey. The roads can be narrow and winding, so maintaining a moderate speed is vital. Watch for local wildlife crossing the roads, especially around dusk and dawn.
8. Plan Around Peak Traffic Times
If you can, avoid driving between 4 and 6 PM, which is typically a rush hour in Maui. Planning your trips outside these times can make for a smoother and more enjoyable ride.
9. Returning your Rental Car at the Maui Airport
Step-by-step guide on how to return a rental car at the Maui Airport in Kahului.
10. Weather Awareness
While Maui is known for its sunshine, it can occasionally experience heavy rain showers. Driving in such conditions can be challenging, so if it starts to pour, consider taking a break and waiting it out.
Book in Advance for Best Prices
The early bird gets the worm! Booking your rental car in Kahului at least a day before your trip often lowers prices. Intermediate cars are usually about 10% cheaper than other types on average, making them a great option.
By following these top tips, you can easily and comfortably navigate the beautiful island of Maui. So buckle up, start your engines, and prepare for the Hawaiian adventure of a lifetime! Happy travels!