Compare & Save on Major Brand Maui Car Rental Companies

Maui Car Rental since 1999 / Reserve in 2 Minutes
Maui Airport & Off-airport Locations / No Reservation Fees
Unlimited miles / Easy to View and Free to Cancel
Lock-in Special Low Rates Today!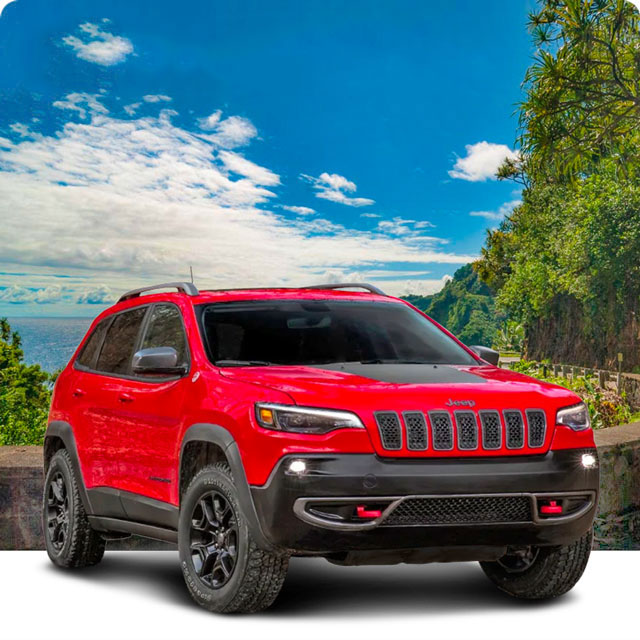 Jeeps • Mustang Convertibles • 7 Passenger Minivans • SUVs • Mid-size • Compact

Welcome to the world of Maui Car Rental. Since our inception in 1999, we have been the go-to choice for travelers looking for reliable and budget-friendly car rental services in Hawaii. With a vast array of options available at both Kahului Airport and Off-airport Locations, we make car rental a hassle-free experience. Plus, with no reservation fees, unlimited miles, and free cancellation, we bring you the best of Maui Car Rental deals.
Update Oct. 9, 2023: The West Maui communities of Kā'anapali, Nāpili, Honokōwai, and Kapalua fully reopened on Sunday, October 8. The Lahaina area affected by the wildfire is closed to the public. We kindly ask visitors to be respectful and understanding during this time.
Support Maui's Recovery by Exploring Its Beauty: While Lahaina remains off-limits due to recent wildfires, the rest of Maui warmly welcomes visitors. Hawaii officials, including Governor Josh Green and the Hawaii Tourism Authority, emphasize that visiting areas like South Maui (Kihei and Wailea) not only offers travelers an unforgettable experience but also plays a crucial role in supporting the local economy during these challenging times. By choosing Maui for your next adventure, you're directly aiding in the island's recovery and helping its vibrant communities thrive once more.

OUR FLEET
Whether you're a solo traveler looking for a compact car or a large family in need of a minivan, we've got you covered. Our fleet includes Jeeps, Mustang Convertibles, 7 Passenger Minivans, SUVs, Mid-size, and Compact cars. Check out our selection of vehicles and choose the one that fits your travel needs and budget.
BOOKING AND REBOOKING



We understand that travel plans can change and we've got you covered. You can secure a rental now and check back later to see if the rate drops for your travel dates. If it does, simply rebook the lower-priced rental and cancel your original booking. No fees, no fuss!
EXCLUSIVE DEALS
As part of our commitment to making car rental affordable for everyone, we offer discounted tour-operator rates, and savings for young drivers on Maui. Plus, we also offer free additional drivers on selected rentals.
Years in the car rental business
PAYMENT AND CANCELLATION POLICIES
At Maui Car Rental, your convenience is our priority. We process payment upon the return of your vehicle, meaning you pay nothing upfront. Plus, if your plans change and you need to cancel your reservation, you'll never be charged any cancellation service fees.

Check our discount rates on this page today!
Customer Comment
Thanks to you we had an awesome car and even saved a considerable amount of money. We even did the Road to Hana twice as it was raining on our first trip. See you next year!

Frequently Asked Questions and Answers
Why do you specialize in Maui Car Rentals?
MauiCarRental.com was formed to give our viewers the best prices on Maui car rentals. In order to do this, we have negotiated rates with companies on the island. Being specific to Maui has given us the upper hand in negotiating lower prices.
Do you need a rental car in Maui?
The short answer is yes, a rental car in Maui is highly recommended. It offers convenience and flexibility and can be cost-effective if you plan to explore more than three attractions on the island.
Should I rent a car before I land at the Maui Airport?
Yes, most definitely. If you wait until the last minute and try to get a rental car at the airport, you may find no cars available or end up paying 2-3 times as much. We recommend reserving a vehicle as early as possible to get the lowest rate. In fact, you can book early and check back on our website for even lower rates. If you do find a lower rate, you can rebook and cancel your previous reservation. There is never a fee or penalty to cancel your rental.
Are there long lines to pick-up rental cars at the Maui Airport?
Due to staff shortages, our car rental company partners often have long lineups. When your flight lands, you may want to send the main driver off to pick up the vehicle while the rest wait for the luggage.
What locations do you serve?
We have found the best prices for any car rental within Maui County at the OGG Maui Airport or at an off-airport location in Maui. Check us first, then see if you can find a better price anywhere else.
Do you provide vehicle rentals for cruise ship passengers?
Yes, but there are no longer shuttles from the ports to the rental lots. The majority of renters are now using ride-sharing apps to access rental companies.
What is your cancellation policy?
We never charge for cancellations; you may help another customer by freeing up the car you reserved. Cancel or change your discount Maui Car Rental reservation.
What is the minimum age to rent a car in Maui?
Renters under 25 (20-24) can rent from a wide variety of car classes, from compact cars to SUVs with a valid driver's license and a credit card. Some companies such as Avis will only rent to those 25 years old and above. Other providers charge a daily young driver fee of ̶$̶2̶0̶ to $̶2̶7̶/̶d̶a̶y̶ ̶ plus taxes. But wait, we have negotiated a discounted young driver fee, saving you up to $20/day. The only limitation would be availability and/or location.
Why would you ever refer me to another agency?
If we can't get you the lowest rate for a specific vehicle or time, we'll refer you to a competitor through a link. Our first concern is getting you the lowest rate on your car.
Why would I rent through you if I'm visiting many islands?
You need to reserve separately per island you visit. Come to us for your Maui car rental to get the best price while in Maui. We have a partner that offers great prices on the other Hawaiian islands. Visit Aloha Rents Discount Hawaii Car Rental for rentals on the other Hawaiian Islands.
Can I rent an automatic transmission?
Each and every Car or Jeep we rent is automatic.
Do both drivers have to sign in order to drive?
Any additional drivers must sign the agreement before taking the car.
I need a child safety seat. Do all companies offer them?
Enterprise is the only company that does not offer a child safety seat. The other companies will let you rent one on-site.
Are there any restrictions as to where on Maui I can drive?
You may not drive your vehicle off-road. Most everywhere you go on Maui is paved. The only exceptions are when you travel deep into and past the town of Hana on some dirt roads, but you won't need to go to these places unless you have family or friends that live there. Most of these roads are mild too unless it's been raining. The backside of Haleakala is also forbidden but locals still use it to drive back around the island after visiting Hana.
Where do I pick up my car at the airport?
The car rental companies are now located in the Car Rental Center. Simply use the crosswalk as you leave the Kahului baggage claim area. Walk across the street and then hop on the 4-minute trolley ride to the Car Rental Center. You'll be set up with a car, or directed towards the exit.
Do I need to purchase insurance?
No. Insurance is only added to your rental if you request it. Most people find that their current insurance providers will cover them while renting a car in Maui. Some credit card companies also offer coverage for free. Be sure to look into this before you travel to Maui.
Will all Maui rental companies accept Debit cards?
Yes, so long as the card has major credit card company logos on it.
Do you offer Tesla or other electric EV rentals?
Yes, we offer Tesla rentals, which are a pinnacle of electric luxury and performance. In addition to Tesla, other electric vehicle (EV) options such as the Chevy Bolt and hybrid options like the Kia Niro are also available for rent.
Can I drive your rental cars on the Road to Hana?
You certainly can, and we'd recommend you do exactly that. Learn more about driving the Road to Hana.
Is it easy to take the top down on a convertible rental?
The convertibles tops are automatic and simple to operate.  There is a handle/latch on the roof that locks/unlocks the roof and a button that operates the up and down of the roof.  Turn the handle, hold the button, that's it. More
May I smoke cigarettes in my rental car?
You may not smoke in Avis, Budget, Dollar, Payless, Hertz, Budget, Enterprise, and Thrifty car rentals. Some other providers may offer vehicles to smoke in. You'll need to search the internet to find such companies.
Can I get a month-long Maui discount car rental?
Yes, longer-term Maui car rentals are popular with renters staying for an extended length of time and allow some days where you are only paying the taxes on the rental. However, some car rental companies will split up longer-term rentals of over 60 days at the counter and may expect you to drop off and exchange a car if it is a much longer rental so the vehicle can get receive its regular maintenance.
I'm the primary contact on a car rental, can one of my other drivers drop the car off instead of me?
And if they do, is it possible to charge the card on file?
If your additional driver has been added to rental by the car company, then yes they can return the vehicle. 

The charges will still go onto the card that was presented at pickup.

The person returning the vehicle just has to make sure the rental is full with fuel (keep the gas receipt in case they want to see it).  They just return the car and then get onto the shuttle back to the terminal; they don't have to go into the car rental office at all. 
What are the driving restrictions for vehicles rented from Maui Car Rental?
The safety of our customers and the maintenance of our vehicles are of utmost importance. There are just a few key driving restrictions to be aware of on Maui. For a visual guide, we offer a map of Maui highlighting all these restricted areas.
Can I bring a luggage cart on the airport trolley to the car rental center?
Yes, the rental car tram does allow space for luggage and passengers.
What are the fuel policies for the rental cars?
Our rental cars come with a full-to-full fuel policy, although prepay is also an option. You'll pick up the vehicle with a full tank and you'll be expected to return it with a full tank. Charges will apply if the car is not returned with a full tank.
Are there any additional fees that might be charged during pickup?
Yes, additional fees may apply for extra services such as GPS, prepaid fuel, or if you're returning the car to a different location. All fees will be clearly outlined in your rental agreement.
How do I extend my rental period if needed?
If you wish to extend your rental period, please get in touch with customer support at least 24 hours before your scheduled drop-off time. Extensions are subject to availability and additional charges typically apply.