We've created this chart to help you estimate the time it will take you to drive from one location to another on the Island of Maui. These are just estimates, and you should also consider local conditions such as traffic or weather possibly affecting these times.
Be aware that speed limits are typically lower on Maui than in the mainland U.S. Read more about the driving laws on Maui.
Click on the chart for a printable version of this Maui mileage chart.
Navigating the beautiful island of Maui can be an adventure in itself, with its diverse landscapes and scenic routes. Understanding driving times is crucial to planning your itinerary and making the most of your visit.
Starting from Kahului Airport, the central hub, you can reach most parts of the island within a 2-hour drive. For instance, the drive to Lahaina, a historic whaling village on the west coast, takes about 40 minutes without traffic. Heading to the south, Kihei is a quick 15-minute drive, while Wailea and Makena are about 30 and 40 minutes away.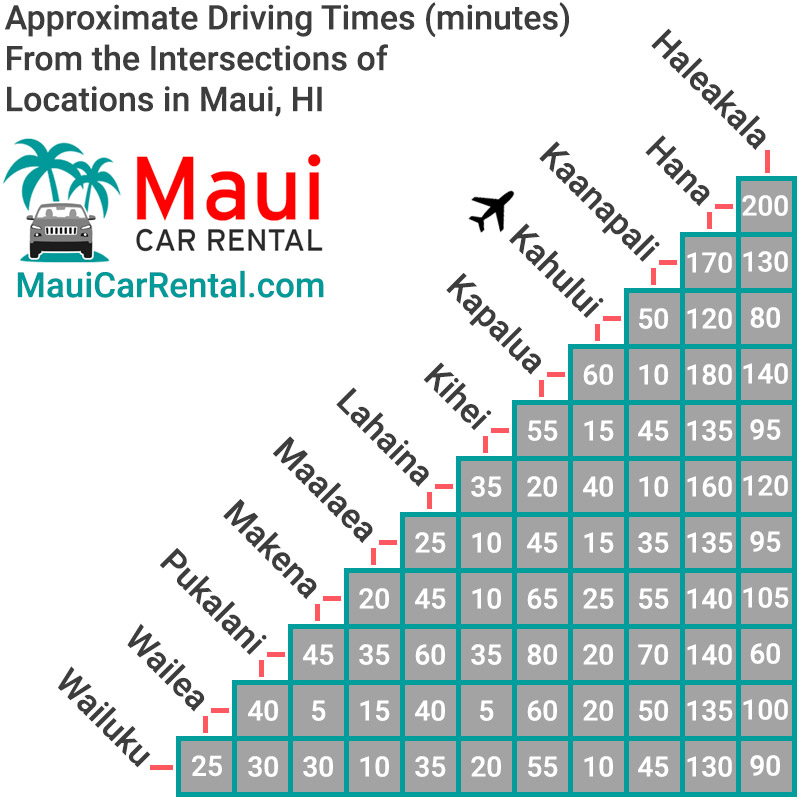 The journey to Hana, on the eastern coast, is a different story. The famous Road to Hana is a 64-mile stretch with numerous hairpin turns and one-lane bridges. This scenic drive, filled with waterfalls, rainforests, and stunning ocean views, can take anywhere from 2 to 4 hours, depending on how often you stop.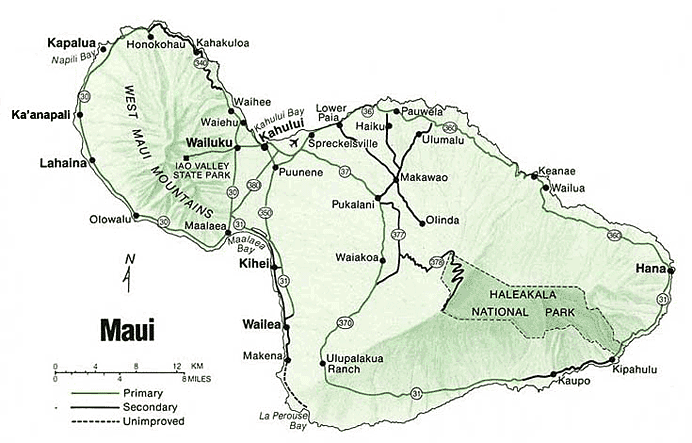 The drive up to the summit of Haleakalā, Maui's dormant volcano, takes about 2 hours from Kahului. It's a winding road, but the breathtaking views from the top are well worth the trip.
Consider visiting Haleakalā National Park during the day to fully appreciate its scenic beauty and extensive network of hiking trails, all while avoiding large crowds. Your adventure starts in the charming, agricultural Kula district, encompassing Makawao, Pukalani, and Kula. Here, you can participate in various farm tours and discover the region's botanical gardens.
Are you looking for more travel ideas? We're excited to announce the launch of our new blog at Maui Car Rental Discount. This platform will serve as a treasure trove of valuable information, tips, and insights about car rentals and exploring Maui. Whether planning your first trip to the island or being a seasoned Maui visitor, our blog will provide fresh perspectives and practical advice to enhance your experience.
Remember, these times are estimates and can vary based on traffic, road conditions, and how often you stop to enjoy the sights. Always allow extra time to ensure a relaxed and enjoyable journey. Safe travels!