The island of Maui is the second-largest of the Hawaiian Islands just under 730 square miles and is the 17th largest island in the United States. Maui is part of the State of Hawaii and is the largest of Maui County's four islands, which include Molokaʻi, Lānaʻi, and unpopulated Kahoʻolawe. In 2020, Maui had a population of 167,417, the third-highest of the Hawaiian Islands. Kahului is the largest census-designated place on the island with a population of 31,336 as of 2020 and is the commercial and financial hub of the island. Wailuku is the seat of Maui County and is the third-largest census-designated place as of 2020. Other significant places include Kīhei (including Wailea and Makena in Kihei Town, the island's second-most-populated area), Lāhainā (including Kāʻanapali and Kapalua in the Lāhainā Town), Makawao, Pukalani, Pāʻia, Kula, Haʻikū, and Hāna.
The Hawaiian demigod Maui, who was renowned for his might and wisdom, is the inspiration for the name Maui, which is borrowed from Hawaiian mythology. Maui is credited with various achievements in Hawaiian mythology, including the origin of the Hawaiian Islands and the trapping of the sun to lengthen the days.
According to one legend, the island of Maui was named after the demigod who used his magical fishhook to fish up the island. The name "Maui" is said to come from the word "mauwelewele," which means "vibrant" or "mottled" in reference to the island's colorful and varied landscape.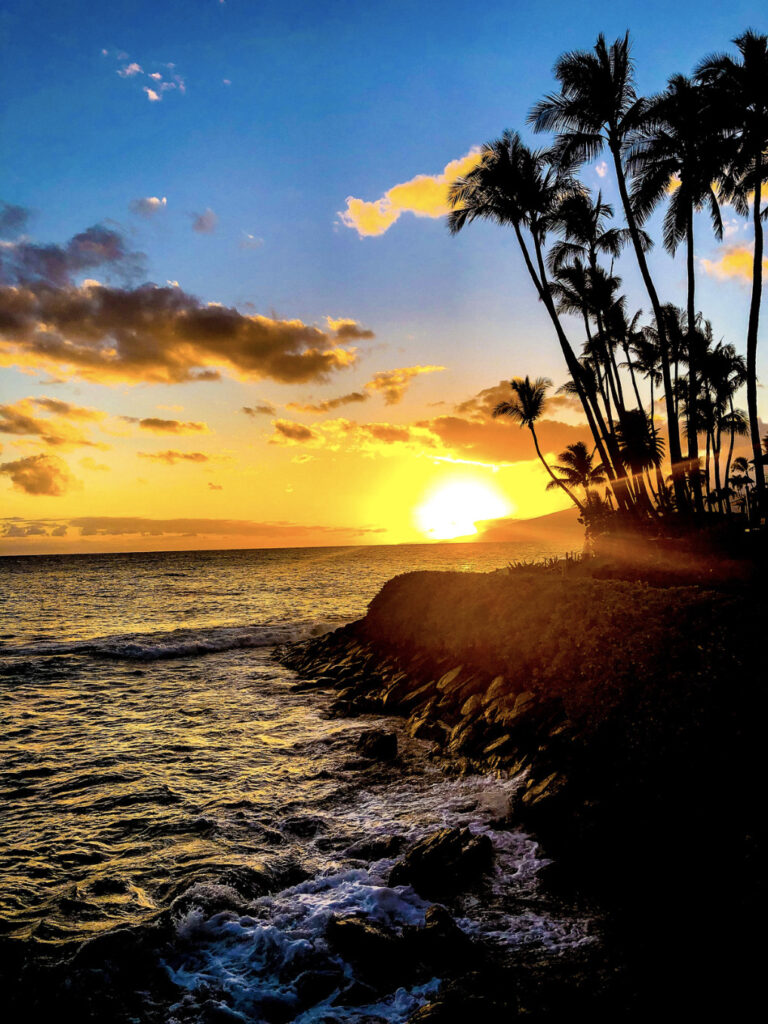 Thus, the name "Maui" has deep cultural and historical roots in Hawaiian tradition and is closely associated with the island's unique history and heritage.
The distinctive geology, geography, and climate of Maui have combined to create a variety of landscapes. The black, iron-rich, quartz-poor rocks that make up each volcanic cone in the Hawaiian Islands chain result from millions of years of highly fluid lava flowing out of thousands of vents.
Because some of the volcanoes were so near to one another, the lava flows on their flanks merged into a single island.
A "volcanic doublet" like Maui was created when two shield volcanoes topped one another, making an isthmus between them.
The West Maui Mountains' summits were created by extensive erosion of the older western volcano and multiple drainages (in Hawaiian, Mauna Kahalawai).
The tallest peak is Puu Kukui, which has a height of 5,788 feet.
Haleakala, a newer and larger volcano to the east, rises more than 10,000 feet above sea level and is 5 miles long from bottom to top.
Deep gullies and ravines that descend the slope to the rocky, wind-swept beach are carved into the eastern sides of both volcanoes.
Sand erosional deposits created the valley-like Isthmus of Maui, which divides the two volcanic bodies.
Two of the lava flows from Maui's most recent eruption, which originated in the Southwest Rift Zone of Haleakala, can be found at Cape Knau between Hihi Bay and La Perouse Bay on the southwest side of East Maui and Makaluapuna Point on Honokahua Bay on the northwest shore of West Maui. Volcanologists believe Haleakala to be inactive, although it can still erupt again.
Maui, along with the islands of Lanai, Kahoolawe, Molokai, and the now-submerged Penguin Bank, makes up the much larger unit known as Maui Nui. They are connected as a single island during times of low sea level, such as recently as 20,000 years ago, due to the shallowness of the channels connecting them.
CLIMATE
The climate of the Hawaiian Islands is characterized by a two-season year, tropical and uniform temperatures everywhere (except at high elevations), marked geographic differences in rainfall, high relative humidity, extensive cloud formations (except on the driest coasts and at high elevations), and dominant trade-wind flow (especially at elevations below a few thousand feet). Maui itself has a wide range of climatic conditions and weather patterns that are influenced by several different factors in the physical environment:
Half of Maui is situated within 5 miles of the island's coastline. This and the extreme insularity of the Hawaiian Islands account for the strong marine influence on Maui's climate.
Gross weather patterns are typically determined by elevation and orientation towards the Trade winds (prevailing airflow comes from the northeast).
Maui's rugged, irregular topography produces marked variations in conditions. Air swept inland on the Trade winds is shunted one way or another by the mountains, valleys, and vast open slopes. This complex three-dimensional flow of air results in striking variations in wind speed, cloud formation, and rainfall.
Maui displays a unique and diverse set of climatic conditions, each specific to a loosely defined sub-region of the island. These sub-regions are defined by major physiographic features (such as mountains and valleys) and by location on the windward or leeward side of the island.
SUBREGIONS
Windward lowlands – Below 2,000 feet on north-to-northeast sides of an island. Roughly perpendicular to the direction of prevailing trade winds. Moderately rainy; frequent trade wind-induced showers. Skies are often cloudy to partly cloudy. Air temperatures are more uniform (and mild) than those of other regions.
Leeward lowlands – Daytime temperatures are a little higher and nighttime temperatures are lower than in windward locations. Dry weather is prevalent, with the exception of sporadic showers that drift over the mountains to windward and during short-duration storms.
Interior lowlands – Intermediate conditions, often sharing characteristics of other lowland sub-regions. Occasionally experience intense local afternoon showers from well-developed clouds that formed due to local daytime heating.
Leeward side high-altitude mountain slopes with high rainfall – Extensive cloud cover and rainfall all year long. Mild temperatures are prevalent, but humidity is higher than in any other sub-region.
Leeward side lower mountain slopes – Rainfall is higher than on the adjacent leeward lowlands but much less than at similar altitudes on the windward side; however, maximum rainfall usually occurs leeward of the crests of lower mountains. Temperatures are higher than on the rainy slopes of the windward sides of mountains; cloud cover is almost as extensive.
High mountains – Above about 5,000 feet on Haleakalā, rainfall decreases rapidly with elevation. Relative humidity may be ten percent or less. The lowest temperatures in the state are experienced in this region: air temperatures below freezing are common.
NATURAL HISTORY
Maui is a leading whale-watching center in the Hawaiian Islands due to humpback whales wintering in the sheltered ʻAuʻau Channel between the islands of Maui county. The whales migrate approximately 3,500 miles from Alaskan waters each autumn and spend the winter months mating and birthing in the warm waters off Maui, with most leaving by the end of April. The whales are typically sighted in pods: small groups of several adults, or groups of a mother, her calf, and a few suitors. Humpbacks are an endangered species protected by U.S. federal and Hawaiʻi state law. There are estimated to be about 22,000 humpbacks in the North Pacific. Although Maui's Humpback faces many dangers, due to pollution, high-speed commercial vessels, and military sonar testing, their numbers have increased rapidly in recent years, estimated at 7% growth per year.
Maui is home to a large rainforest on the northeastern flanks of Haleakalā, which serves as the drainage basin for the rest of the island. The extremely difficult terrain has prevented exploitation of much of the forest.
Agricultural and coastal industrial land use has had an adverse effect on much of Maui's coastal regions. Many of Maui's extraordinary coral reefs have been damaged by pollution, run-off, and tourism, although finding sea turtles, dolphins, and Hawaii's celebrated tropical fish, is still common. Leeward Maui used to boast a vibrant dry 'cloud forest' as well but this was destroyed by human activities over the last three hundred years.
WILDLIFE
Maui is home to a diverse range of wildlife, including many species of birds, fish, and marine mammals. Some of the most notable species found on the island include the Hawaiian goose, or nene, the Hawaiian hoary bat, and the humpback whale.
Maui Nui, also known as the Greater Maui region, is a term used to refer to the combined land area of the islands of Maui, Molokai, Lanai, and Kahoolawe. These four islands, along with the island of Oahu, make up the Hawaiian archipelago. Maui Nui is known for its rich history and cultural significance, as well as its diverse ecosystem and beautiful landscapes.
Maui Nui is popular with tourists and locals, offering various activities and attractions. The island of Maui itself is home to several state parks and natural reserves, including the Haleakala National Park and the Iao Valley State Monument. These areas are home to many plants and animals, including many endemic species found only in the state of Hawaii.
In addition to its natural beauty, Maui Nui is also known for its cultural significance. The islands have a rich history and are home to many important cultural and historical sites, including the Pu'u Kukui Watershed Preserve, the Mokapu Peninsula, and the Kanaha Pond State Wildlife Sanctuary. These areas are home to many endangered species and are considered important cultural and ecological resources.
Overall, Maui Nui is a unique and fascinating place, offering a rich blend of natural beauty, cultural significance, and ecological diversity.